Installation & Relocation
Calibration & Verification
Installation & Relocation
Customer orientation is our top priority. That is why we are active on your behalf worldwide with one aim: to provide fist-class service and support throughout the entire life-cycle of your instrument.Whenever our customers need help of any kind, we are at their service!
Calibration & Verification
Our KWP preventive calibration, maintenance and service program can be tailored to the customer's environments and specifi demands for test data traceability with the highest instrument precision. On-site service intervals can be scheduled to minimize the risk of any unplanned downtime.
Repair & Refurbishment
We provide fully traceable calibration services using the latest equipment and methodology by highly skilled fild service engineers keeping your instrument in a perfect shape. All work and calibration procedures are fully in compliance with ISO, ASTM, DIN and other applicable standards.
Training
Our unique range of training covers everything from basic operation and testing courses, software classes for data management and Laboratory Information Management System trainings, seminars in diffrent operator levels to high-end scientist courses.
Maintenance
Our services ensure that your testing instrumentation is reliably providing you with consistent and accurate data, instrument-to instrument correlations and site-to-site crosschecks.
We Can
Remote Services
Internet made it possible to remote assistance.Through remote services, we strive to solve the problem in the first time.Greatly accelerated the process of troubleshooting, reduce the cost of the customers.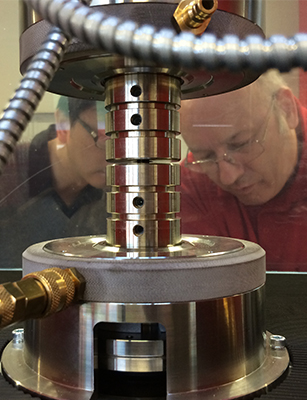 Rapid on-site response
Whether you might have questions on specifi instrument applications, test setups, test executions, results, calibrations,correlations or diagnostics and troubleshooting, our superb team of technical and application specialists is only a quick phone call away.
Technology and Training Center
We have invested a lot of resources in the laboratory.Make it contains all kinds of equipment and has a perfect operation system. In addition to making the test according to our customers, we can also provide all kinds of solutions more easier. Because in our laboratory we can repeat the testing and contrast equipment structure. Meanwhile we can offer trainings through more intuitive way,make customers know more about our products.
Technology and Training Center
With over 500,000 diffrent parts and assemblies in our worldwide warehouses, along with our global supply chain, we can guarantee rapid response and fastest delivery of high-quality genuine consumables and spare parts that you may need for maximum uptime of your laboratory machinery.